Solid Colors
Thinking about painting your cabinets? We also offer a finish in pure white that is unlike any paint out there today. It`s unique in that it doesn`t need a primer for it to adhere. This material will stick to plastic laminate! It`s so durable that it doesn`t need a clear coat that will alter the color it covers, so pure white stays pure white. It`s also tintable to off whites or other colors.
Preparation
We wash down any surfaces to be sprayed with a mild degreaser
We lightly "scuff sand" surfaces to give the stain some grip
We apply a sealer to lock in any trace amounts of contaminants
We mask off walls, counters, floors, etc.
Doors and drawer fronts are taken to our shop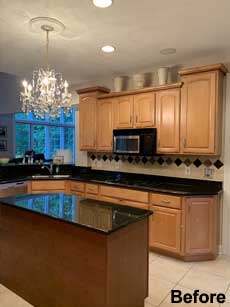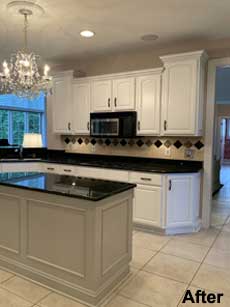 Spraying
Our high efficiency spray guns produce only a small amount of overspray
What little overspray that is produced is trapped by our air cleaners
Popular Upgrades
New handles and drawer pulls
Concealed soft close hinges
Frame and panel trim details on cabinet ends and islands
If you have a nice, solid stair railing in your home but are tired of the finish on it, why not have us give you a darker, richer tone, and have us change out the balusters(spindles) to the new generation of wrought iron that's now available?
We`ve refinished hundreds of kitchens and stairs with this process, and year after year our clients continue to offer to be references......sometimes before we`re finished with the work! We'll let them tell you.
Project Gallery
Enjoy the BEFORE and AFTER photos of our projects! Click on any photo to enlarge it and begin a slideshow. Within the show, hover on the picture for the Next and Previous buttons. Click the Close button to return to this page.
Overspary & Cleaning
We take great care to avoid over spray by masking off the areas we are working in. In doing so, there are times when some paint may come off when removing masking even though painters tape is used.