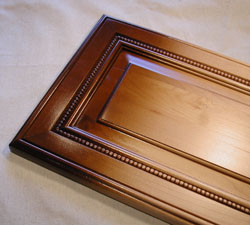 Super Stain Refinishing
Are you thinking about having your kitchen cabinets refaced?
Or a complete kitchen remodel?
Tired of the golden oak finish on your cabinets and woodwork?
What if the only drawback was the outdated finish color?
Consider kitchen cabinet refinishing! At Architectural Woodworking,Inc. we have a revolutionary wood refinishing process that will produce deep, rich "espresso" tones over the existing wood finish, without stripping or sanding down to bare wood!
This finish can be applied by brush, or spray gun, and goes right over the existing finish with minimal preparation and without the mess that comes with stripping or sanding to bare wood.
A deeper, richer wood tone is now possible - like never before!
Click on a photo below to see larger image and start slideshow!
THIS IS NOT A KIT FROM A HOME IMPROVEMENT WAREHOUSE.
Those kits are latex based and are non-transparent,meaning they won`t allow the grain to show through.
HOW MUCH DOES THIS COST?
To arrive at an approximate cost quickly, we use a multiplier of $125.00 per door (or drawer front). For example: a medium sized kitchen, with a total of 35 doors and drawer fronts (including false fronts), would be in the "ballpark" range of $4375.00.
Other factors that affect the pricing are:
The backs of island and peninsula cabinets
Number of end panels
Display cabinets that require the interior to be finished to match
Soffits, doors with glass & muntin bars
White-on-oak requires additional labor and material to get finish into pores, and will cost an additional 50%
Ultimately, it`s those factors combined with total surface area to be finished, and the degree of difficulty, that determines the final cost.
This finish is not a latex and is transparent,producing deep,dark tones and yet allows the grain to show through.
It adheres so well, it even sticks to sheet metal!
It even sticks to melamine surfaces! (the printed wood on the side)
The finish then gets its durability from an environmentally friendly water borne floor finish.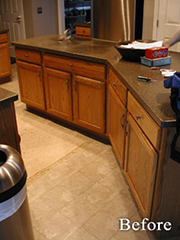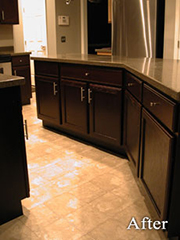 THERE`S NOTHING GREEN ABOUT THROWING A WELL-BUILT SET OF KITCHEN CABINETS INTO A DUMPSTER!
The better alternative is kitchen cabinet refinishing. Our spray technique is so advanced we can spray the cabinet cases right in the kitchen, without the overspray staining the nearby surfaces. Doors and drawer fronts are sprayed in our shop. No need to remove the countertops (unless you want to) so the plumbing stays connected and kitchen remains usable.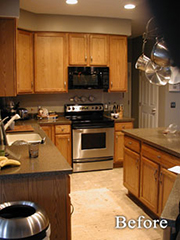 Color Selection
You select a stain color from sample chips. The pictures below are representative. Color will vary from your screen, so please select from the actual stain samples.
Because the stain is sprayed on gradually, you can add just a "mist coat" or a deep espresso tone or something in between.
We'll do a sample spray on one of your doors so you can see the actual color as it will appear in your kitchen.




Preparation
We wash down any surfaces to be sprayed with a mild degreaser
We lightly "scuff sand" surfaces to give the stain some grip
We apply a sealer to lock in any trace amounts of contaminants
We mask off walls, counters, floors, etc.
Doors and drawer fronts are taken to our shop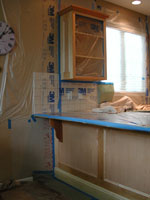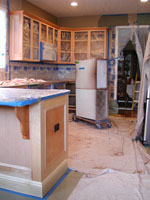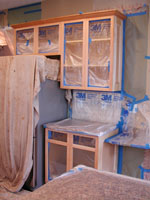 Spraying
Our high efficiency spray guns produce only a small amount of overspray
What little overspray that is produced is trapped by our air cleaners
The clear coat is "brushed on" in the kitchen, and "sprayed on" in the shop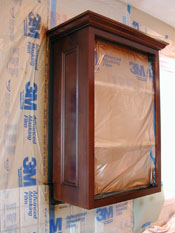 Popular Upgrades
New handles and drawer pulls
Concealed soft close hinges
Frame and panel trim details on cabinet ends and islands




If you have a nice, solid stair railing in your home but are tired of the finish on it, why not have us give you a darker, richer tone, and have us change out the balusters(spindles) to the new generation of wrought iron that's now available?
We've refinished several kitchens and stairs with this process recently, and are happy to have our clients offer to be references. Why? Was it the quality of finish? Or was it the thousands of dollars we saved them compared to what they would have spent on a kitchen reface, let alone a full replacement? We'll let them tell you. One couple said it was half of what it would cost for new imported cabinets installed!
Project Gallery
Enjoy the BEFORE and AFTER photos of our projects! Click on any photo to enlarge it and to begin a slideshow. Within the show, hover on the picture for the Next and Previous buttons. Click the Close button to return to this page.
Overspary & Cleaning
We take great care to avoid over spray by masking off the areas we are working in. In doing so, there are times when some paint may come off when removing masking even though painters tape is used.